Meet the Team!
Liv Hospitality is powered by extraordinary leadership with an innovative mindset and service-focused approach. We like to work hard, but we like to think we are a pretty fun group, too!
The Decider
Caleb Arceneaux joined Liv Hospitality in May 2008 and subsequently held various roles within the company including General Manager, Director of Food and Beverage and Casino Operations and was ultimately named Chief Executive Officer in 2011. Mr. Arceneaux's strengths lie in his 20 years of hospitality and leadership experience in hotel, casino, and food and beverage operations. His hotel management experience originates in the Pacific Northwest where he worked within several full-service resorts, gaming operations and limited-service hotels, uniquely qualifying him to lead the Liv Hospitality portfolio of properties. Mr. Arceneaux has extensive experience in casino player reinvestment strategies, direct marketing efforts, digital marketing and operational platforms, various promotional programs, operational efficiencies, internal controls, and maximizing ROI with various CRM management systems. Mr. Arceneaux has in-depth experience in both commercial and Native American casino jurisdictions.
Mr. Arceneaux's food and beverage experience originates in conference services and has developed into a solid background that consists of new construction project management, franchised food and beverage operations, menu development, cost control, and operational efficiencies. In addition to leading the Liv team, Mr. Arceneaux serves on the Hotel Business Improvement District Board of Directors for Box Elder, the Visitor Industry Alliance Board, the South Dakota State Tourism Advisory Board, the Regional Health Home+ Advisory Board, the South Dakota State Workforce Advisory Council, as well as serving as the President of the Deadwood Gaming Association.  He has been active in successfully lobbying for visitor and travel industry legislative initiatives during his tenure as CEO of Liv Hospitality. Mr. Arceneaux is also a shareholder in Atlantis, LLC; the company who owns WaTiki Waterpark and the associated hotels and restaurants within the resort complex. He and his wife, Amy, enjoy spending time in the beautiful Black Hills of South Dakota with their 3 children.
Voice of Reason
Kayti Ratigan joined Liv Hospitality in April 2011 and has nearly 17 years of experience in hotel and tourism business. She has extensive knowledge in working and managing timeshares, resorts, and hotels of all sizes. She started her career at a timeshare resort in Orlando, Florida, and quickly fell in love with the industry.
Her vast knowledge of hotel operations, revenue management, front desk training, and sales techniques has assisted in escalating her career. Ms. Ratigan currently serves as the Chief Operations Officer and is responsible for increasing Liv Hospitality's top-line revenues, maximizing profits, managing expenses, talent recruitment and mentoring property level leaders.  In her free time, Ms. Ratigan enjoys being outdoors with her husband, Chad, and their 3 children.
Chief Bean Counter
Mr. Klug joined Liv Hospitality as its Chief Financial Officer in 2006 after spending a number of years working for the State of South Dakota Department of Revenue as a financial analyst and auditor with the South Dakota Commission on Gaming.  Ken is a Certified Public Accountant through the State of South Dakota and brings a wealth of experience and knowledge to his role with Liv Hospitality.
Mr. Klug's responsibilities include oversight of all accounting processes for Liv Hospitality.  He is responsible for proper execution of the company's accounting practices, maintenance of accurate financial records, and the timely preparation of financial reports. Mr. Klug holds a BS in Accounting from the University of South Dakota.  He enjoys spending time outdoors at his home in Spearfish, SD with his wife Jane and 2 children.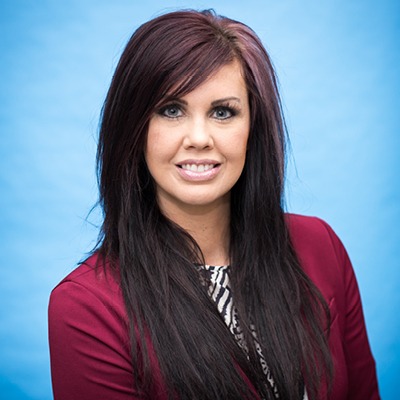 Director of Deals
Lynzie Montague joined Liv Hospitality as the Director of Sales & Marketing at the Hotel Alex Johnson in October 2016. Ms. Montague was then promoted to the General Manager of the Hotel Alex Johnson and began the oversight of what was an extensive 2-year renovation, while rapidly learning the operational side of hotel management.
She has since worked with numerous large brands such as Hilton, Marriott, Radisson, and Wyndham Hotels & Resorts. In her current role, she is responsible for all group sales efforts, talent acquisition, increasing market share growth, and developing strategic marketing initiatives across the entire Liv Hospitality portfolio. In her free time, Ms. Montague enjoys spending time on Pactola Lake boating and wake surfing with her husband, Scott, and their 2 children.
Robot Whisperer
David Klynsma has been with Liv Hospitality for over 10 years and currently serves as the Chief Information Officer. He began his career as a night auditor at Cadillac Jack's Gaming Resort while attending Black Hills State University where he developed a love for information technology.
Mr. Klynsma soon became the new IT Manager for Cadillac Jack's Gaming Resort and eventually moved to Rapid City to begin his role as the Chief Information Officer for Liv Hospitality. In his current role, he is responsible for the technological direction of the company to include, but not limited to, software, hardware, architecture and implementation strategies.  In his free time, Mr. Klynsma enjoys flying a high speed drone in various areas capturing captivating views with his wife, Hailey, and their 2 children.
Chief Rainmaker
Britton Siemonsma began her journey with Liv Hospitality in October 2012 after several years in the banking industry. Her first role at LIV was Assistant GM at Fairfield Inn & Suites Rapid City before joining the opening team at the SpringHill Suites in Deadwood. She has since held several roles with the company including General Manager and Director of Operations for the Deadwood market. During her time in Deadwood, she was involved in many large projects including a hotel and casino acquisition, the new hotel builds, and numerous renovations. Throughout her time with the company, she has expanded her knowledge in project management, hotel/casino operations, and revenue management. Currently, as the company's Chief Revenue Officer, Britton oversees the Call Center and Revenue Management teams.
Britton attended Northern State University and holds a Bachelor of Arts in International Business and Economics. Traveling, usually to a beach location, is her favorite way to spend her free time. At home, she enjoys spending time with loved ones, DIY projects, and gardening.
Director of First Impressions
Clover joined the Liv Hospitality team in June 2020 as the Office Manager and Executive Assistant to the company's CEO, Caleb Arceneaux. In February, 2023, Clover was promoted to the Director of Engagement. With an extensive background in hospitality and the ability to multitask, she enjoys the various roles and responsibilities her unique position holds.
Clover is a foodie and wine lover, and spends her free time exploring South Dakota with her husband and three fur babies.
Penny Pincher
Heather began working for Liv Hospitality in April 2012 as the Night Auditor for the Hotel Alex Johnson. Over the years, she has worked under the flags of Choice, Marriott and Hilton in various front desk and administrative positions. In her current role, she is flexing her organizational muscle and pinching the pennies as the Accounts Payable Specialist for Liv Hospitality's Rapid City properties.
When not in the office, she is the Owner/Artisan of Circle of Heather jewelry. On occasion, she is an avid reader and enjoys the fantastic hiking trails offered through the Black Hills.
Cheddar Getter
Jessica Ries joined Liv Hospitality in January 2021 as the Payroll & Benefits Administrator and was then promoted to Director of Payroll & Benefits. Jessica earned an A.S. Degree in Paralegal Studies and brings over 15 years of support expertise.
In addition to being a "Cheddar Getter" on the Liv Team, Jessica, along with her family, has been volunteering at various food banks, missions, and homeless shelters for over a decade. Jessica also currently serves on the Board of Directors for the Breadroot Natural Foods Co-op where she continues her mission to lead our community to be better fed & healthier. Outside of work, Jessica & her husband Joshua, their three sons, and three fur children can be found galivanting around the beautiful Black Hills, making jewelry together, or participating in fierce air hockey tournaments in their basement.
Uncle Money Bags
Jeff Paulsen joined the Liv Hospitality team in March of 2006 as the Senior Staff Accountant. Born and raised in Rapid City, SD, Jeff studied accounting at the National American University. With his strong financial background, his primary responsibility is the daily accounting for Liv Hospitality, including preparing financial reports and cash management.
Outside of work, Jeff enjoys camping and fishing with his girls — his wife, Laurie, and dogs, Annie and Shelby. He also enjoys hunting and spending time outdoors.
Magic Money Maker
Kristi began her journey with Liv Hospitality in April 2009 in Deadwood as a night auditor for Cadillac Jack's Gaming Resort. She arrived with a background in restaurant management and call center experience, so the hospitality industry was a brand-new adventure. While pursuing the components of operations and revenue, Kristi got married, had a child, and worked her way up to becoming the Hotel General Manager. Mrs. Stuart would later transfer that role to the Fairfield Inn & Suites while the Residence Inn was under construction, before launching her dream project of building a centralized reservation center.
Currently, Kristi is the Revenue Manager for Liv's Rapid City properties, while maintaining oversight of the Reservation Center. Integrating work into everyday life has been the largest key to her success. Every day life is spent primarily with her husband Scott and two boys. Swimming, hiking, church, concerts, and annual trips to sunny southern California are a must. "Can you watch rates poolside or from the top of Black Elk Peak? Sure can!"
RevPAR Driver
Melissa joined Liv Hospitality in February 2012 as the Director of Sales for WaTiki Indoor Waterpark Resort. Throughout the years, Mrs. James has held numerous roles within Liv Hospitality, including Group Sales, Food & Beverage, Operations, and Revenue Management.
As the Revenue Manager, her current role is to assist in growing top-line revenue for Country Inn & Suites and Liv's five Hilton properties: DoubleTree, Hotel Alex Johnson – A Curio Collection, TRU, Home2 Suites, and Hampton Inn Deadwood at Tin Lizzie Gaming Resort. Mrs. James has a wealth of knowledge in Property Management Systems ranging from Hilton, Marriott, Wyndham, and Radisson systems. Using this knowledge, she is responsible for each hotel's inventory management, pricing, revenue forecasting, and tracks the appropriate KPIs to aid in making sure the right strategy is in place for each hotel.
Mrs. James graduated with a Bachelor of Arts degree from the University of South Dakota. She enjoys spending time in the Black Hills with her husband and four children.
Digital Guru
Jessie began her career with Liv Hospitality as the Digital Marketer in May 2019. Within her first year, she was promoted to her current role as the Digital Strategist. She earned a Bachelors in both Corporate Communications and Graphic Design from Black Hills State University. While pursuing her Bachelor's degree, Jessie gained experience working in the marketing department and participating in both the Public Relations Club and Swarm Advertising Solutions Club at Black Hills State University. It is through her education, experience, and involvement at the University that Jessie discovered her passion for all things digital marketing. Outside of the office, Jessie is active outdoors and enjoys spending time with her husband and daughter.
Marketing Mastermind
Morgan Arthur is the Marketing Director at Liv Hospitality and is our Marketing Mastermind. She joined the team in May 2019 after moving back to the Black Hills. Morgan completed her Master's in Sport Management from the University of South Dakota (#GoYotes!) and has a Bachelor's in Sport Management from Bemidji State University (#RollBeavs!).
When pursuing her degrees, Morgan was able to work for the sport marketing departments at both Bemidji State and the University of South Dakota, which allowed her to find her true passion and enjoyment for marketing. Outside of work, Morgan enjoys spending time with her family, dogs, watching hockey, and being outdoors.
Lord of the Ledgers
Jake Titus joined Liv Hospitality in May 2022 as the Corporate Controller. He was born and raised in Minnesota and graduated from Minnesota State University, Mankato with a BS and Master of Accounting. He worked in Minneapolis as a public accountant for several years before moving west and continuing his auditing career in Rapid City before eventually joining the Liv Team. He is a Certified Public Accountant in the states of Minnesota and South Dakota.
His role as the Corporate Controller will be to assist with the completeness and accuracy of financial statements and daily accounting functions. Outside of the office, Jake can be found mountain biking or hiking in the hills with his energetic dog.
Prince of Pantones
Devin Blasius is a Graphic Designer at Liv Hospitality and our Prince of Pantones. He joined the team September 2022. He went to college and received a Bachelor's Degree specializing in Graphic Design. While attending SDSU Devin worked in an automotive repair shop to make ends meet. Growing up around cars he developed a passion for all things cars at a young age.
Outside of work he enjoys being active and participating in outdoor activities such as hunting, fishing, side-by-siding, as well as drag racing, and car shows. During the winter he likes to remain indoors and play video games.
Digital Dynamo
Paige joined the Liv Hospitality team in June 2023 as a Digital Strategist. She earned a bachelor's degree in Sports Management with an emphasis in Marketing from the University of Nebraska at Kearney (Go Lopers!) She is a jack of all trades and has held many roles including Marketing Coordinator, Sales Manager, Brand Ambassador and more! Through her experiences she found her true passion for digital marketing.
Paige and her family recently moved to the Black Hills from Colorado Springs, and they are looking forward to exploring and calling South Dakota, home. Outside of work, Paige enjoys spending time with her family, hiking, camping, and fishing.
Vibe Manager
Rosemary Washnok started out as an intern in the summer of 2022, and then decided to come back as the Office Manager in June 2023. She graduated from South Dakota State University with a degree in Hospitality, Event, Tourism Management after three years. She was very involved in campus life, being a part ASL club, rock climbing club, Community Assistant, and in the Chi Omega Sorority, along with many others.
Outside of work Rosemary likes to spend time in the summer, going on hikes, biking, exploring trails with a side-by-side, and swimming. In the winter she likes to go snowboarding. Otherwise, she loves to travel and go on adventures.
Interior Designer
Paige Bond is an innovative Senior Interior Designer with 18 years of experience in hospitality interior design. She officially joined Liv Hospitality in January 2022 after working for Liv's go to interior design firm, Dear Mitchell Digges Design, Inc. Since 2007 Paige has been an integral part of the Liv team, working on various projects including design lead for the Hotel Alex Johnson, Cadillac Jack's Gaming Resort and SpringHill Suites, to name a few. Paige has utilized her creativity and artistic talents to develop and execute numerous design concepts for hotels, restaurants and casinos throughout the United States. Projects include both new construction and renovation for boutique hotels, Navy Lodges and well-known brands such as IHG, Hilton, Marriott, Radisson, and Wyndham. She has extensive experience in designing custom and prototypical projects for renovation. Her expertise includes specification of interior finish & furniture selection, space planning, budget development, project management and vendor to contractor coordination.
Paige is certified by the National Council for Interior Design Qualification Board (NCIDQ). She received her Bachelor of Science degree in Interior Design from Virginia Polytechnic Institute and State University (Virginia Tech), a Council for Interior Design Accreditation (CIDA) accredited program. Paige works remotely through Liv's Interior Design office in Williamsburg, VA.
In her free time, Paige is involved in various church activities; previously working as the Children and Youth Coordinator from 2016-to 2020 and serving as the church's Vice Chair/Designer of the Capitol Improvement committee. She is currently involved in a women's group that is focused on local mission projects that impact the community for Christ. Paige also enjoys spending time with her husband and two dogs in the Blueridge Mountains and Tidewater areas of Virginia.
Interior Designer
Kelli Mitchell-Digges joined Liv Hospitality in Jan of 2022, bringing a 31 year career of designing hospitality interiors on an international level. Kelli received her Bachelor of Science degree in Interior Design from Virginia Polytechnic Institute & State University (Virginia Tech); which is a CIDA accredited program. She began her design career working with Hugh W. Dear & Associates, Inc., in 1991. At that time, the firm was ranked 55 in Interior Design Magazine's top 100 Hospitality Giants. She later became Director of Design and eventually, Vice President, and led the firm to consistently rank nationally in the top 20 Hospitality Giants. Kelli has worked with Historic & Boutique Hotels, which have been given "Certificate of Recognition for Architectural Preservation and Restoration" and listed in the top 20 hotels and resorts in the United States Zagat; the World's Best 500 hotels; Top 50 US Resorts, and Virginia's # 1 Resort by Travel + Leisure Magazine.
In 2002, Kelli founded Dear Mitchell Digges Design, Inc., located in Williamsburg, Virginia. She enjoys the challenge each project brings, from researching local flavor, addressing aesthetic & architectural themes to carefully create interior spaces that are serviceable and stand out in the marketplace. From conceptual design, through specification and purchasing, to installation & delivery, she strives to give the client a product that delivers a great return on their investment. Liv Hospitality was a top client for the last 14 years, which lead to a seamless transition in joining the Liv team.
Kelli has served on the board of Greater Williamsburg Outreach Mission working with the homeless population; as a women's ministry leader and on the building committee in her church. Currently she volunteers with Promiseland's Storehouse foodbank and is an Officer of Elections in her city. Her greatest pet peeve is to be called a decorator instead of interior designer. In her free time she enjoys spending time with her husband and watching her two sons play soccer and lacrosse.
Reservations & Revenue Manager
Jerica joined the Liv Hospitality team in March of 2023 as the General Manager of Liv's Reservation Center and shortly after accepted the challenge to assist in Revenue Management. She is an experienced professional with 23 extensive years in customer service and hospitality. She has dedicated her career to the hospitality and tourism industry. She started at the front desk of a Marriott hotel. Since then, she has worked under different flags, the most current being Hilton and 8 years with Choice Hotels. Jerica has held various roles such as Front Office Supervisor, Sales Manager, Assistant General Manager, and General Manager. With her expertise she has successfully assisted hotels with accounting, revenue, PIPs and re-branding. Jerica is dedicated to driving success in the hospitality industry and ensuring each guest has a memorable stay in one of the many hotels Liv has to offer. 
Beyond her professional achievement, Jerica finds joy in spending time with her family, husband and dog Luna. Indulging in her passion for travel, she loves exploring the outdoors, fishing, attending baseball games and concerts. She seizes every opportunity to explore a new destination!