Meet the Team!
Liv Hospitality is powered by extraordinary leadership with an innovative mindset and service-focused approach. We like to work hard, but we like to think we are a pretty fun group, too!
The Decider
Caleb Arceneaux joined Liv Hospitality in May 2008 and subsequently held various roles within the company including General Manager, Director of Food and Beverage and Casino Operations and was ultimately named Chief Executive Officer in 2011. Mr. Arceneaux's strengths lie in his 20 years of hospitality and leadership experience in hotel, casino, and food and beverage operations. His hotel management experience originates in the Pacific Northwest where he worked within several full-service resorts, gaming operations and limited-service hotels, uniquely qualifying him to lead the Liv Hospitality portfolio of properties. Mr. Arceneaux has extensive experience in casino player reinvestment strategies, direct marketing efforts, digital marketing and operational platforms, various promotional programs, operational efficiencies, internal controls, and maximizing ROI with various CRM management systems. Mr. Arceneaux has in-depth experience in both commercial and Native American casino jurisdictions.
Mr. Arceneaux's food and beverage experience originates in conference services and has developed into a solid background that consists of new construction project management, franchised food and beverage operations, menu development, cost control, and operational efficiencies. In addition to leading the Liv team, Mr. Arceneaux serves on the Hotel Business Improvement District Board of Directors for Box Elder, the Visitor Industry Alliance Board, the South Dakota State Tourism Advisory Board, the Regional Health Home+ Advisory Board, The Elevate Rapid City board, the Elevate Rapid City Convention and Visitors Bureau board as well as serving as the President of the Deadwood Gaming Association.  He has been active in successfully lobbying for visitor and travel industry legislative initiatives during his tenure as CEO of Liv Hospitality. Mr. Arceneaux is also a shareholder in Atlantis, LLC; the company who owns WaTiki Waterpark and the associated hotels and restaurants within the resort complex. He and his wife, Amy, enjoy spending time in the beautiful Black Hills of South Dakota with their 3 children.
Voice of Reason
Kayti Ratigan joined Liv Hospitality in April 2011 and has nearly 17 years of experience in hotel and tourism business. She has extensive knowledge in working and managing timeshares, resorts, and hotels of all sizes. She started her career at a timeshare resort in Orlando, Florida, and quickly fell in love with the industry.
Her vast knowledge of hotel operations, revenue management, front desk training, and sales techniques has assisted in escalating her career. Ms. Ratigan currently serves as the Chief Operations Officer and is responsible for increasing Liv Hospitality's top-line revenues, maximizing profits, managing expenses, talent recruitment and mentoring property level leaders.  In her free time, Ms. Ratigan enjoys being outdoors with her husband, Chad, and their 2 children.
Chief Bean Counter
Mr. Klug joined Liv Hospitality as its Chief Financial Officer in 2006 after spending a number of years working for the State of South Dakota Department of Revenue as a financial analyst and auditor with the South Dakota Commission on Gaming.  Ken is a Certified Public Accountant through the State of South Dakota and brings a wealth of experience and knowledge to his role with Liv Hospitality.
Mr. Klug's responsibilities include oversight of all accounting processes for Liv Hospitality.  He is responsible for proper execution of the company's accounting practices, maintenance of accurate financial records, and the timely preparation of financial reports. Mr. Klug holds a BS in Accounting from the University of South Dakota.  He enjoys spending time outdoors at his home in Spearfish, SD with his wife Jane and 2 children.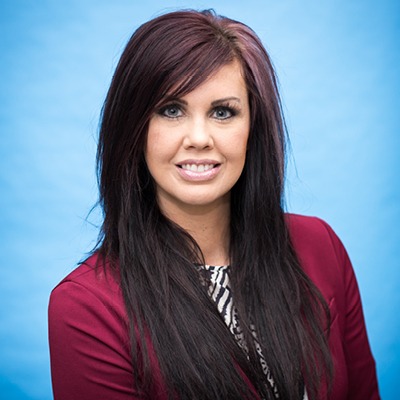 Director of Deals
Lynzie Montague joined Liv Hospitality as the Director of Sales & Marketing at the Hotel Alex Johnson in October 2016. Ms. Montague was then promoted to the General Manager of the Hotel Alex Johnson and began the oversight of what was an extensive 2-year renovation, while rapidly learning the operational side of hotel management.
She has since worked with numerous large brands such as Hilton, Marriott, Radisson, and Wyndham Hotels & Resorts.   In her current role, she is responsible for all group sales efforts, talent acquisition, increasing market share growth, and developing strategic marketing initiatives across the entire Liv Hospitality portfolio.  In her free time, Ms. Montague enjoys spending time on Pactola Lake boating and wake surfing with her husband, Scott, and their 2 children.
Robot Whisperer
David Klynsma has been with Liv Hospitality for over 10 years and currently serves as the Chief Information Officer. He began his career as a night auditor at Cadillac Jack's Gaming Resort while attending Black Hills State University where he developed a love for information technology.
Mr. Klynsma soon became the new IT Manager for Cadillac Jack's Gaming Resort and eventually moved to Rapid City to begin his role as the Chief Information Officer for Liv Hospitality. In his current role, he is responsible for the technological direction of the company to include, but not limited to, software, hardware, architecture and implementation strategies.  In his free time, Mr. Klynsma enjoys flying a high speed drone in various areas capturing captivating views with his wife, Hailey, and their 2 children.
Uncle Money Bags
Jeff Paulsen joined the Liv Hospitality team in March of 2006 as the Senior Staff Accountant. Born and raised in Rapid City, SD, Jeff studied accounting at the National American University. With his strong financial background, his primary responsibility is the daily accounting for Liv Hospitality, including preparing financial reports and cash management.
Outside of work, Jeff enjoys camping and fishing with his girls — his wife, Laurie, and dogs, Annie and Shelby. He also enjoys hunting and spending time outdoors.
The Giver
Angie Tonderum began her adventure with Liv Hospitality in June 2020 as the Payroll & Benefits Administrator. Angie has many years of diverse experience processing payroll and managing benefits for many different industries including healthcare, retail, and higher education. However, as a world traveler, her passion is for the hospitality industry and at Liv, Angie gets to combine her love of the hospitality industry with her love of HR and payroll.
Outside of work, Angie enjoys camping and spending every minute with Shane, her best friend & husband, spending time with her three grown children, grandchild, and her furbabies.
Magic Money Maker
Kristi began her journey with Liv Hospitality in April 2009 in Deadwood as a night auditor for Cadillac Jack's Gaming Resort. She arrived with a background in restaurant management and call center experience, so the hospitality industry was a brand-new adventure. While pursuing the components of operations and revenue, Kristi got married, had a child, and worked her way up to becoming the Hotel General Manager. Mrs. Stuart would later transfer that role to the Fairfield Inn & Suites while the Residence Inn was under construction, before launching her dream project of building a centralized reservation center.
Currently, Kristi is the Revenue Manager for Liv's Rapid City properties, while maintaining oversight of the Reservation Center. Integrating work into everyday life has been the largest key to her success. Every day life is spent primarily with her husband Scott and two boys. Swimming, hiking, church, concerts, and annual trips to sunny southern California are a must. "Can you watch rates poolside or from the top of Black Elk Peak? Sure can!"
RevPAR Driver
Melissa joined Liv Hospitality in February 2012 as the Director of Sales for WaTiki Indoor Waterpark Resort. Throughout the years, Mrs. James has held numerous roles within Liv Hospitality, including Group Sales, Food & Beverage, Operations, and Revenue Management.
As the Revenue Manager, her current role is to assist in growing top-line revenue for Country Inn & Suites and Liv's five Hilton properties: DoubleTree, Hotel Alex Johnson – A Curio Collection, TRU, Home2 Suites, and Hampton Inn Deadwood at Tin Lizzie Gaming Resort. Mrs. James has a wealth of knowledge in Property Management Systems ranging from Hilton, Marriott, Wyndham, and Radisson systems. Using this knowledge, she is responsible for each hotel's inventory management, pricing, revenue forecasting, and tracks the appropriate KPIs to aid in making sure the right strategy is in place for each hotel.
Mrs. James graduated with a Bachelor of Arts degree from the University of South Dakota. She enjoys spending time in the Black Hills with her husband and four children.
Director of First Impressions
Clover joined the Liv Hospitality team in June 2020 as the Office Manager and Executive Assistant to the company's CEO, Caleb Arceneaux. With an extensive background in hospitality and the ability to multitask, she enjoys the various roles and responsibilities her unique position holds.
Clover is a foodie and wine lover, and spends her free time exploring South Dakota with her husband and three fur babies.
Penny Pincher
Heather began working for Liv Hospitality in April 2012 as the Night Auditor for the Hotel Alex Johnson. Over the years, she has worked under the flags of Choice, Marriott and Hilton in various front desk and administrative positions. In her current role, she is flexing her organizational muscle and pinching the pennies as the Accounts Payable Specialist for Liv Hospitality's Rapid City properties.
When not in the office, she is the Owner/Artisan of Circle of Heather jewelry. On occasion, she is an avid reader and enjoys the fantastic hiking trails offered through the Black Hills.
Brand Guardian
Passionate about personal and professional growth, Liz Patton involves herself in all things that spark human curiosity. She began her career as the first in-house graphic designer at Liv Hospitality in May 2012. While working directly under the Director of Marketing, she quickly discovered her passion for marketing, consumer behavior, and leadership. As Liv Hospitality grew their portfolio, the need to expand the marketing department was critical. Liz was then promoted to Creative Manager in 2016 and began overseeing a small, but mighty team of creatives, digital gurus and social butterflies. In her current role, she is a designer, team cheerleader, world-class project manager, and brand guardian. She is responsible for streamlining team progress, from concept to completion, ensuring brand identity and successful results.
Away from the monitor, she strives to embrace work-life balance by traveling, running, enjoying a nice glass of red wine with friends, and playing in the Hills with her partner in crime, Jesse.
Digital Guru
Jessie began her career with Liv Hospitality as the Digital Marketer in May 2019. Within her first year, she was promoted to her current role as the Digital Strategist. She earned a Bachelors in both Corporate Communications and Graphic Design from Black Hills State University. While pursuing her Bachelor's degree, Jessie gained experience working in the marketing department and participating in both the Public Relations Club and Swarm Advertising Solutions Club at Black Hills State University. It is through her education, experience, and involvement at the University that Jessie discovered her passion for all things digital marketing. Outside of the office, Jessie is active outdoors and enjoys spending time with her husband and daughter.
Social Butterfly
Morgan Arthur is the Digital Marketer at Liv Hospitality and is our #SocialButterfly. She joined the team in May 2019 as the Social Media Specialist after moving back to the Black Hills. Within her first year with Liv Hospitality, she was promoted to her current position as the Digital Marketer. Morgan recently completed her Master's in Sport Management from the University of South Dakota (#GoYotes!) and has a Bachelor's in Sport Management from Bemidji State University (#RollDamBeavs!).
When pursuing her degrees, Morgan was able to work for the sport marketing departments at both Bemidji State and the University of South Dakota, which allowed her to find her true passion and enjoyment for marketing. Outside of work, Morgan enjoys spending time with her family, dogs, watching hockey, and being outdoors.
Crazed Designer
Jon joined the Liv Hospitality Team in 2020 as a Graphic Designer and animator. He brings 10 years of design experience & crazed thinking to the team and enjoys shaking things up to stand out. Jon was born and raised in Rapid City and earned his degrees in Art & Commercial Art from Black Hills State University. After graduating, Jon received his graphic design start at a full-service ad agency for over 7 years. In that time, he assisted in the strategy and campaign rollouts for multiple South Dakota Department of Health accounts.
Creating things is second nature to Jon. Whether it is in his role as a designer and animator at Liv or at home in his free time. He is obsessed with drawing, playing music, and watching Studio Ghibli movies with his wife and two furry children.